Welcome back for more awesome donors, plus prizes for both writers AND readers today!
LAUREN SPIELLER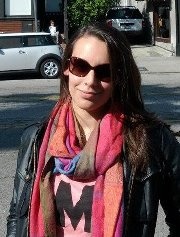 Lauren Spieller
is a graduate of University of Illinois and University of Notre Dame. She writes young adult and
adult
novels
, as well as
short stories
for adults. She enjoys adult literary fiction and young adult genre fiction above all else, but anything with a strong main character and an exciting premise will have her hooked. When she's not reading or writing, Lauren interns for a literary agent.
Lauren also offers query, pitch, and synopsis critiques. Click
here
to see her services.
Follow her on Twitter
@laurenspieller
.
Lauren is represented by
Jim McCarthy of Dystel & Goderich Literary Management.
DONATED PRIZE #1:
Query Critique
DONATED PRIZE #2:
First Five Pages Critique
LAUREN BARATZ-LOGSTED
Lauren Baratz-Logsted is the author of over 30 books for nearly every age group and in nearly every genre imaginable, including

(adults)

, Little Women and Me (YA), and the nine-book series for young readers, The Sisters 8, which she created with her husband and daughter. Before being published, she was an independent bookseller, a freelance editor, a book reviewer, a sort-of librarian, and a window-washer. Visit her at

www.laurenbaratzlogsted.com

or follow her on Twitter

@LaurenBaratzL

.
DONATED PRIZE:
Signed Copy of
THE TWIN'S DAUGHTER
JULIANA BRANDT
Juliana L. Brandt has been writing seriously since 2010 and tends to mainly write Young Adult fiction, though she has dabbled in both Middle Grade and Adult fiction. She is represented by
Emmanuelle Morgen of the Stonesong Literary Agency
. When she's not writing, you can find her exploring Tennessee's State Parks with her family, rock climbing, or finding new creative outlets like making paper snowflakes.
DONATED PRIZE:
Query and First Chapter Critique
More big auction items revealed tomorrow! Make sure you check it out. It's never too early to start developing your strategy for the 23rd!